I had a restless night, last night;
Down pillow 'neath my head.
I crumpled it, again and again.
I tossed upon my bed.



There were images within my mind.
(I've been through dust storm days.)
There were prayers, just waiting to be said;
Send swiftly on their way.



For boys in uniform, I saw
Mud pillows for their heads,
Fine dust upon their faces;
Doing what Uncle Sam said ...



Boys becoming a man among men,
Boys learning earnest prayer,
Boys looking for a letter from
Back home; so far from here.



So, I prayed, knowing God is omnipotent,
Never so well before;
Praying He would be (with them all)
In the air, on sea, on shore ...



Praying that He would direct them, each one,
To discern that treacherous way;
Praying that each would be watching
For God to lead, that day.



God knows all about the cunning,
The evil of our foe;
Warning us, over and over, to
Depend on Him as we go.



Above all, I pray our Commander
Will be wise above all learned;
Doing the hard and unpopular things,
Being the leadership earned.



America is lots of people
Who band for a common good.
We've found it hard to stand idly by,
Like some other nations would.



Finally, the bin of watching is full
And there's only one course you can go,
Onward and upward and forward
To meet the world's most ardent foe!



Oh, God, help the forces of good, today!
Let the evil and sinful fall!
Give good men the will and the ways of God
To pass to one and to all!



When it is over and peace shall reign,
Then, Lord, in Your beauty, come.
Bless the world with the Light of Your ways.
That's when we've really won!

Joan Clifton Costner
Copyrighted 2003. All rights reaerved.




Vocal: Ronnie Kimball
Lyrics: Michael Berardi
Music: John Drymon
Produced by: Denny Martin
Copyright: ©Richard and Michael Berardi Music Corp. (BMI)

Liberty is available on Ronnie's new CD
Reach Higher
Click on the album cover
below for more information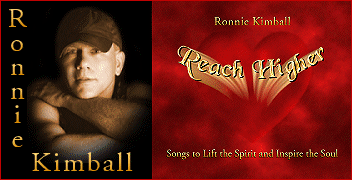 All pages are listed in
the Library.