Here you will find the listing of all
the pages of "Under His Wings."
Pull up a chair and visit a while, and
I pray you will be blessed abundantly
as you browse these pages!
Come back soon........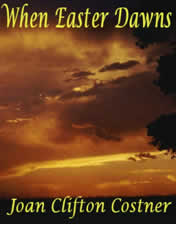 If you enjoy her writings,
you will love her e-book!
A 76 page poetry e-book, available on CD or
download in PDF format.
To order, contact Joan.
Joan Clifton Costner,
Rt. 1, Box 180,
Guymon, Oklahoma 73942.
Tel # 580-338-6003.

Support United States Military



When Little Hands Fold In Prayer
Invitation (From The Common People)