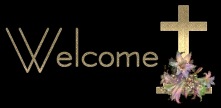 A Fool for Jesus

Am I a fool for Jesus?
And is my faith in vain?

If I forgot His service
Would life be just the same?
Oh, the sun would rise in the morning
And the season come and go;
But if I failed my Savior
Iíd lose lifeís purpose, I know.

Am I a fool for Jesus?
Could I even walk another way?
Where then the song within my heart?
The lips that, trembling, say,
"I love You, Lord, my yearning heart
Seeks only, first, Thy will;
When days are dark and nights are long
Youíre there beside me still."

Iíll be a fool for Jesus
While wisest men confound,
Explaining what You spoke to be
In ways not quite profound;
Iíll let the world with tongue in cheek
Laugh heartily at me,
Then take Your hand and close my eyes
Content to stay with Thee.

And when I wake, where faith no more
Needs practicing for strength,
Where mansion and a crystal sea
Bedorn a golden length ~
Then let them laugh ~ or will they weep
That faithís reward is true?
Oh, blessed Jesus, Savior, Friend,
Iíll be a fool ~ for You!

Joan Clifton Costner
All Rights Reserved.