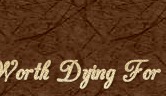 I donít know how He loved so vile a sinner
Before I even knew or made response.
I only know He took an awful beating
And died for me, upon a cruel cross.



Now, when I think of golden streets Heís offered,
No cost to me save only just believe,
I count His name most precious and most sacred.
I love and trust all from His heart received.



It didnít take me long, once I had heard it.
He loved a love He thought worth dying for.
And so, for me, with life made richer, fuller;
I found a Love ~ a Love worth living for.


Joan Clifton Costner
Copyrighted. All rights reserved.

All pages are listed in
the Library.